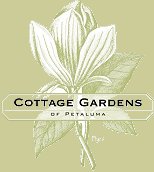 SHIPPING ESTIMATES
We trust UPS with the job of shipping our wonderful Tuffits all over the US, your order usually arriving within 3 to 5 business days.
Shipping costs vary both by destination and the Tuffit you choose.
So that we can give you an accurate shipping estimate, please have your choice of Tuffit and the shipping address, including zip, ready for us.
Thank you!

The most adorable stepping stones EVER - Made only at Cottage Gardens of Petaluma!

We Ship!
Call 707)778-8025
(ask for Fionuala)
OR
email us at info@cottagegardensofpet.com


For up to date news from Cottage, check out our facebook page!

SOFT AS A ROCK

Yes, they are concrete - and yes they are stepping stones, garden art, or whatever you want to make of them!!

Whimiscal concrete pillows, beautifully detailed and in gorgeous, rich colors, mimic the look of vintage cushions from days gone by.



Call us at (707)778-8025 with any further questions or to place an order.
OR email us at info@cottagegardensofpet.com