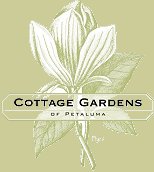 Cottage Gardens of Petaluma
25 years growing!
Mission Statement
Established in 1991, we grow almost 80% of what we sell here at Cottage Gardens of Petaluma. We tend and care for the tiny young plants and seedlings in our 2+ acre growing grounds until they can be brought up to the retail part of our nursery and are ready to be planted out in your garden. From the seasonal-appropriate vegetable starts through our extensive perennial, vine, grass, fruit tree, rose and succulent collections, each individual plant is meticulously cared for from the minute it is planted until the minute it leaves our nursery. And hey - don't forget, we are always right here to answer any follow up questions you might have about your purchase!! Except for the youngest or most tender of veggies and succulents, we grow our plants outside, ensuring all are ready for life outdoors in Northern California. We have regular meetings to discuss new discoveries, new directions, issues, frustrations and developments and we are all very excited about and love what we do. We really, really love growing the best and the healthiest plants!!
Our extensive plant collection (over 1,000 different varieties) is supplemented with shrubs, vines, trees and assorted other plants from some favorite growers, purchased carefully to ensure that each plant is suited to our customers' growing zones and conditions, and that they too have been grown as thoughtfully and carefully as the plants we ourselves are growing.
Unlike 'Big Box' stores, we grow everything as sustainably as we can. We never use bloom-forcing chemicals or growth regulators at the expense of the long-term health of our plants. We grow them as naturally as possible.
We use people power and tools rather than herbicides for any weeding concerns and apply the barest minimum of sprays and do the barest minimum of any kind of chemical intervention. This only happens when absolutely vital and all other options have been exhausted and then is done as thoughtfully and as sustainably as possible with consideration for the environment being paramount.
All of our vegetables are organically grown - we call it "sustainable" as we've decided against the lengthy certification process.
The cost of taking these environmentally conscious actions as opposed to quick-fix drenching or dousing with systemic herbicides and pesticides does add up but we have decided that it is just not an option for us to be adding beauty to the world with our gorgeously grown plants if it is at the expense of our environment. We are concerned about the well-being of our hard-working staff, our happy customers, our beloved nursery and visiting dogs and all of the other creatures around us who depend on a healthy environment. We have a thriving population of birds, frogs, lizards and toads (and we're hoping for bats to notice the bat houses any day now) to help us keep the bug and snail numbers manageable and want to ensure their continued health and happiness. And then of course there are the honeybees, butterflies and native pollinators who, as we are all aware, are having trouble. We pledge to do our utmost to help ensure their safety and survival in our heavenly piece of this world.